Regarding fire outbreaks, no one has ever had it easy, especially firefighters who had to head on and brace the raging flames of burning properties. Fire outbreaks can cause a lot of damage, destruction of property, and loss of lives.
Having the right equipment and tools for firefighting is key on top of the intensive training needed so firefighters can respond to the emergency immediately and as efficiently as possible. Thermal imaging cameras improve the ability of firefighters to navigate a blazing area and avoid casualties and further damage to properties. But what makes these cameras unique?
What are Thermal Imaging Cameras?
Thermal imaging cameras are no ordinary cameras. Their design allows them to serve multiple purposes, including home inspection and law enforcement. Using modern science and technology, thermal imaging cameras process information in fire sites through the assistance of an infrared wave and thermal imaging, enabling firefighters to see easily through smoke and different heat temperatures.
Viewing images using a regular camera can never be the same as viewing the same thing using a thermal imaging camera. Thermal imaging cameras use heat-generated electromagnetic energy to create visuals in fire scenes, unlike the standard camera that uses normal light. In this case, heat can radiate from the walls, dust, a burning door, or anything burning. Thermal imaging cameras fire service can easily detect a temperature difference.
Firefighters can easily detect fire spread by using thermal imaging cameras for firefighters. The camera has unique aspects that enable the firefighter to see locations with high or low temperatures. In addition to viewing victims' bodies, the devices can easily see floating materials in the fireplace. The micron-sized carbon soot particles absorb visible light quickly, allowing the firefighters to see more clearly as they trace victims and put out the fire.
Read More: What is A Thermal Imaging Camera And How Does It Work?
How Thermal Imaging Cameras Are Beneficial in Extinguishing Fire
The heat-sensitive thermal imaging cameras bring more benefits during a fire outbreak and rescue mission. When conducting a quick initial search, such as for humans, the heat-sensitive thermal imaging cameras will enable the firefighters to save rescuing time by helping them determine fire hot spots for their action.
The most frequent use of thermal imaging cameras is during the overhaul phase, after duties like search and rescue and fire suppression. Firefighters run overhauls to ensure no more fire, creating a safe ground free of fire damage. The thermal imaging camera's wide range of motion allows firefighters to have a wide field of view as they inspect the fire scene.
The infrared waves and Mileseey thermal imaging makes it easier to self-rescue for firefighters. While using the unique cameras, rescuers and firefighters can easily navigate in and out of conditions with almost zero visibility, enabling self-rescue in case the situation is out of control. Thermal imaging cameras fire service has become much easier over the years, and adopting the new thermal imaging camera technology creates a huge positive impact on firefighting and rescue missions.
Ground searches for missing people can be hectic and time-consuming, especially considering the time frame to locate the victims. Thermal imaging cameras can aid in tracing the lost victims by detecting the heat their body emits, signaling the rescuer of the victim's location for easy assistance. The thermal imaging camera's unique features enable it to see the heat radiations through deep shadows, blocked regions, and in different weather conditions. Rescue missions are easier and more efficient while using fewer people.
Limitations of Thermal Imaging Cameras
Structure fires
They cannot see through different structures. They can only detect infrared energy as it is emitted from different surfaces.
Vehicle crashes
It is difficult for the rescuers and firefighters to tell the amount of oil spillage at the car accident site.
Hazmat responses
They cannot determine all hazardous materials during the firefighting process.
Wildland fires
While using thermal imaging cameras for wildlife observations, it is difficult to tell its course and reduce the damage it will cause. It is also difficult to accurately identify fire hot spots using thermal imaging cameras for wildlife observations.
Outdoor search & rescue
They cannot pick up the heat waves of an individual for an extended period as their body cannot emit heat radiations.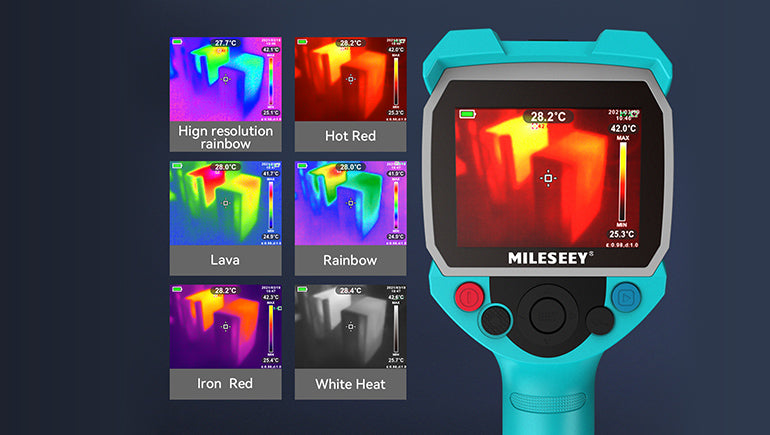 Use of the Thermal Imaging Cameras
Do a quick check before using
Imagers should quickly check the thermal imaging cameras before they use them. This is to rule out any malfunction and ensure the device's proper function, hence a successful thermal imaging camera firefighting process. The cameras can detect radio waves which can block the visibility of an item. Therefore, the cameras need to be checked for the same before use.
Adjust the Thermal Camera's Focus
Thermal imaging camera focus is imperative, especially when considering the accuracy of the temperature and the image quality. Adjusting the thermal imaging camera's focus enables the firefighters to use it as part of the hazardous material response team. The device will then identify hazardous materials on the ground. Adjusting the focus helps determine if there is any liquid on the floor or any leakage at the affected site.
Carry an extra battery
Thermal imaging cameras have extra external batteries that firefighters can carry easily by attaching them correctly to the camera. They are meant to extend the operating time of the device.
Make Use of Duct Tape
The thermal duct tape enables the thermal imaging camera to capture heat that radiates from different surfaces by reflecting cold symbolizing the surrounding environment. Duct tapes help in the removal and replacement of the thermal camera battery. It is easier to detect body heat and identify lost victims thanks to the duct tape feature in the thermal camera, which aids in that.
Tilt the Lens as You Remove the Battery
The firefighters should set the camera's lens angle when taking out the battery. These cameras' lenses allow IR rays to pass through. The battery chamber is protected from water and debris by a tilting lens. Firefighters will be able to shield themselves from the spreading of flames thanks to this camera.
They are capable of detecting both ground and airborne fire. Wildland fires are riskier than other types of flames. The batteries need to be changed more frequently when operating in the wilderness.
Safety Measures to Consider While Using a Thermal Imaging Camera for Firefighting
The use of thermal imaging cameras involves interaction with radiation that can be harmful to our health. The following are safety measures one can consider while using thermal imaging cameras:
Adjusting the camera's focus is a crucial safety measure by the firefighters as it will provide a clear image and better vision of the fire site.
Firefighters should be high on alert while the water sprinklers are on. It isn't easy to get a clear vision of an individual with water on their body.
The firefighters should identify other doors and rooms while using the thermal imaging cameras as it will enable them to prevent fire from spreading to unaffected places.
Firefighters can use a glass-made mask to hide and protect themselves from coming into contact with infrared radiation, which can harm them. Firefighters should use firm and steady glasses as fragile glasses can easily break, allowing the infrared waves to penetrate the body hence causing harm.
The use of mylar foil creates a thermal blanket that protects the infrared radiation against the firefighters' bodies. It makes the firefighter's protective gear safer, especially when the body temperature increases.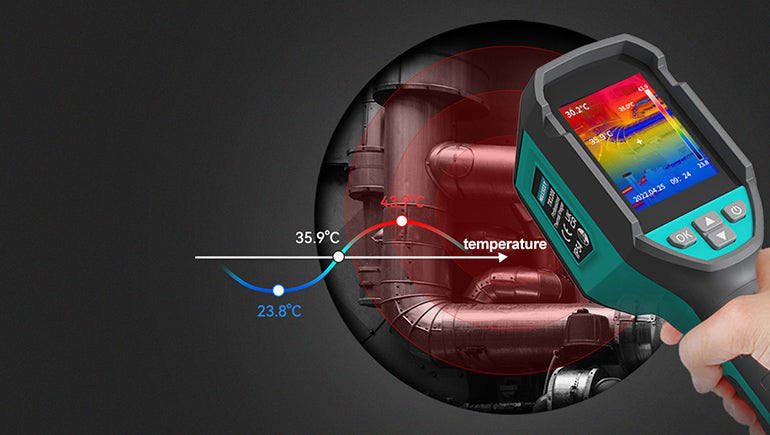 Mileseey Thermal Imaging Cameras for Firefighting
The Mileseey TR256A Infrared Thermal Imager not only detects the infrared but also uses laser measure technology of up to 20m. It has a wide temperature range of between -20-550 degrees Celsius with a 12um infrared band. Its frame rate is below 20Hz with a thermal sensitivity equal to or below 60mk. 
The Mileseey TR120E has a wide temperature range of -20- 400 degrees Celsius and high-temperature alert features that notify a firefighter in case of warm or cold temperatures. Has a rechargeable lithium battery. Temperature measurement accuracy is controlled within 2 degrees Celsius.
The Mileseey TR120 has two functions which include detecting infrared and standard lighting. It offers a wide range of color scales to the user, gives temperature alerts, and has a wide temperature range of between -20 to 450 degrees Celsius.
The Mileseey TNV10 has a night vision and thermal imager as its main feature, connecting through the LK01 laser distance meter. It can measure a distance of up to 1200 meters with images showing on the TNV10. This is an optional feature yet gives precise pictures of your target. It is IP65 waterproof and can serve multiple purposes, including orchard night surveillance, farming, hunting, and geometry observation.
Conclusion
Firefighters benefit from the use of thermal imaging cameras. The cameras have sensors and lenses that provide them access to the IR spectrum. A firefighter can conduct a successful search and rescue thanks to these features. Looking for a reliable, efficient, and trustworthy thermal imaging camera brand? Look no further than Mileseey.
Mileseey is a high-tech company that combines industrial designs, R&D, manufacturing, and marketing. It offers a wide range of high-quality products, such as thermal imaging cameras for fire services, hunting/night vision, green laser level, and laser measure, among other instruments which can be used by firefighters in the event of a fire outbreak.
Related blogs from Mileseey
Factors to Consider When Buying a Thermal Monocular for Hunting
How to Use Thermal Imaging Cameras for Home and Building Inspection
How to Choose Industrial Infrared Cameras for Power System Inspection
Be the first to know the latest updates, tips, how-tos, exclusive deals, and discounts from Mileseey. Sign up for our newsletter today!