Hunting is a demanding discipline, which asks for your complete focus and a lot of unique skills that we don't get to use that often in day-to-day life. However, while proper hunting begins with your discipline, that doesn't mean you can't support your skills with the proper external gear.
Take night hunting for example. The simple fact is that we don't see anywhere near as well at night as most animals, and that's where a thermal hunting monocular becomes a must. Being able to properly scan for important targets at night will change your entire approach, and will make your night hunts all the more successful. 
READ MORE: How To Use A Rangefinder For Hunting 
So with that in mind today we'll be taking a look at why you should get one of these devices, as well as talk about the best thermal monocular for hunting based on your needs. 
Why should you use a thermal monocular for hunting?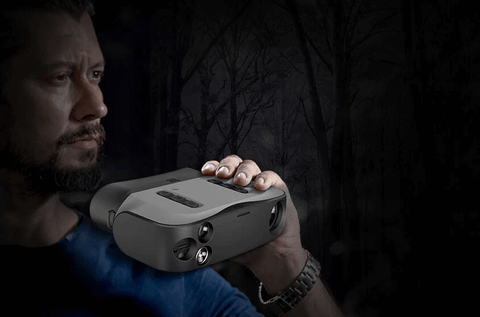 A thermal monocular for hunting is an impressive piece of tech, but if you are still wondering why you should need one of your own here are some important reasons to consider.
Advantages in technology
Monoculars provide an edge for your hunting catalog that you simply can't get without technological aid. Night vision devices intensify images and help you detect animals ahead of time regardless of the available light sources in the area.
Added adventure
Night vision has a unique appeal that's hard to deny. You can detect animals before they do you and even get to watch their night habits from afar. In other words, it's a whole new world of possibilities for your adventures.
Good for safety
When in the wild you never know when an animal could come too close for comfort, and our night vision isn't enough to safely scan an area. A monocular can help you make cautionary scans to prevent any undesired encounters with wild animals.
Usable for any situation
These monoculars are made to last, and that means you can use them in almost any setting. Whether you are dealing with rain, fog, or darkness these trusty tools will perform as expected and prove to be a great aid.
Easy to carry
Monoculars are compact and easy to carry at all times. Some can mount on your helmet or rifle, but all of them can easily be carried around your neck. So you won't even notice they are on you most of the time. 
READ MORE: Top 7 Reasons Why Should Have a Thermal Night Vision Rangefinder
Factors to consider before getting a thermal monocular for hunting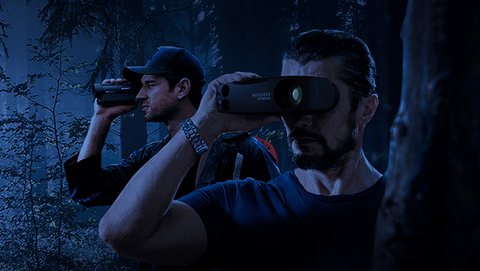 Now that you understand the reasons why you should get a thermal monocular for hunting it's time we take a deeper look at them. Not all monoculars are made to the same specs, so let's cover the main factors you should consider before settling for a purchase. That way you will be able to make an informed choice and get a great product that helps you out.
1. Check the magnification
Magnification refers to the number of times you can zoom in with your monoculars. Magnification tends to go up to 10x, but those models can be a bit too large and unwieldy for quick shots and general comfort. So 5x tends to be the sweet spot for most hunters. 
2. Thermal monocular's durability
If you are getting a monocular you'll want to get one that lasts. After all, if it suddenly malfunctions during a hunt you'll have to cancel it altogether and will be more exposed to nature. So to make the most out of your investment, search for models that offer rubberized coating and waterproofing.
 3. Portability and ease of use
An ergonomic design and lightweight go a long way to make sure your time with a monocular is more comfortable. Plus it ensures that you'll be able to react with it on time and make better scans of the area. Despite their added features, some monoculars are close in weight to binoculars, so those might be a good pick.
4. Battery life
When it comes to batteries you'll want to know how long a charge lasts and how affordable it'll be for you. Rare batteries that need constant replacing will just be a hassle. So models which accept rechargeable batteries are the best pick.
5. Offered field of view (FOV)
The field of view lets you know how much lateral visualization you have. All monoculars get a reduced field of view the further the magnification, so learn to balance these factors.
6. Objective lens
Objective lenses are directly tied to magnification and are the physical element responsible for how far a monocular can zoom in. 42mm objective lenses are particularly useful for the standard ranges in most monoculars.
7. Overall range distance for the monocular
Range distance is the measurement of how far a monocular can provide you with visual info. In short, it's the maximum range of your model, and this will limit the overall range of your hunts so make sure to pack at least a thousand yards.
8. Performance of its optics
The quality and amount of glasses and prisms will directly impact how well a monocular performs. Quality can't be cheated, so make sure to pick reliable brands with experience on the field.
9. Thermal monocular's size and weight
If a model is too large or heavy it runs the risk of becoming cumbersome. This is especially problematic for handheld models, so grab a monocular that is close to the ranges you are comfortable with.
10. Price range
Some monoculars in the market can easily go for over $2000, but similarly, other models cost way less and offer most of the same features. So keep in mind what a product offers, that's what makes a good deal.
Mileseey monoculars for hunting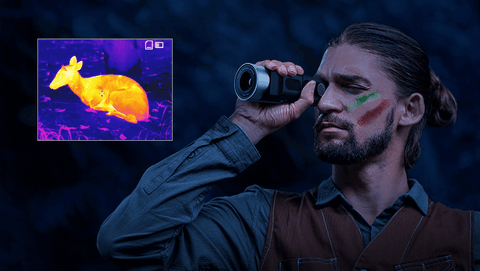 Now that we have covered everything that you need to consider choosing your monoculars it's time we take a look at some models from Mileseey. All of these are monoculars made with the latest technology and procedures, which means that they all will make a reliable tool for your next adventure.
Mileseey PF2H Monocular Laser Hunting Rangefinder
As a rangefinder, the Mileseey PF2H monocular is not only a superb monocular with angle compensation and HD displays, but it's also a powerful measuring tool that will let you know any important measurement in a matter of seconds. Easy to pick up and full of features, this is a great entry model for new hunters.
Mileseey NV20 Night Vision Monocular
Packed with both Night Vision which magnifies ambient light and some powerful recording options the Mileseey NV20 night vision monocular is great for night adventures. This device's 5x optics lenses with up to 40x magnification are also perfect for scanning and surveying, ensuring nothing will ever surprise you.
Mileseey TNV10 Infrared Night Vision Thermal Imaging Monoculars
A compact cylinder design coupled with 5 forms of thermal and night vision makes the Mileseey TNV10 a powerhouse in the range. Comfort and function go hand in hand with this model as the amazing design and 4x magnification plus the rechargeable battery mean that you'll be ready for any adventure.
Wrapping It Up
If you are going to hunt at night you'll need a good set of thermal binoculars and a good pair while you are at it. At Mileseey we are at the vanguard of imaging and laser technology. Our company started with the mission to overturn and revolutionize the industry of rangefinders and monoculars and that means we provide great technology at unbeatable prices, always making sure to go further than any other brands.
So if you are interested in learning more about the world of monoculars or want to stay up to date on our upcoming deals and discounts make sure to subscribe to our newsletter so we can stay in touch!
Related blogs from Mileseey
Essential Gear for Night Hunting
Night Vision vs. Thermal Imaging: Which Is Best for Night Hunting?
How to Choose an Infrared Night Vision Monocular for Camping? 
Be the first to know the latest updates, tips, how-tos, exclusive deals, and discounts from Mileseey. Sign up for our newsletter today!