If you love nature then hiking is one of the best possible activities to indulge in. Not only is it good exercise but the sights are breathtaking and invigorating. However at the end of the day our own sight has its limits, and you might not be able to make the most of certain sights like birds without some assistance.
This is where a monocular comes in handy. Thanks to their magnification you will be able to take in any sight no matter how distant and depending on the model even record it to share later. So let's take a general look at monoculars and discover together what's the best monocular for hiking.
Why is a monocular for hiking essential?
So by now, you might be wondering why you would need a hiking monocular, and if you have never used one before it's easy to see why the notion might confuse you. But monoculars have long been reliable allies for hikers, and modern ones considerably improve on what they offer.
A good monocular will allow you to make the most out of the core activities of hiking, that is to say, it improves your experience for bird watching, taking in nature's sights, and when it comes to trail observation as well. 
A monocular in short provides you with an improved visual experience in a compact presentation. Meaning that it doesn't add any considerable bulk or weight to your gear but makes it possible to see things you'd miss if you only had your eyes to rely on, and this means you'll come to discover a whole new side of hiking you'll also grow to love. 
How to Choose the Right Monocular for Hiking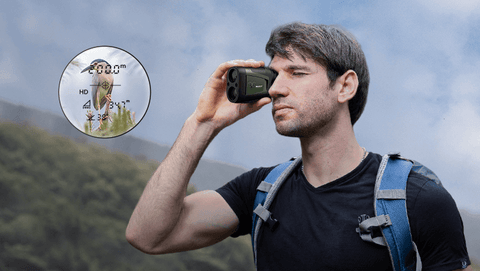 The modern monocular industry is closely tied to the advances in thermal camera and laser detection technologies. Thermal cameras first saw development in 1929 as a way to detect aircraft, however, the passing of time has changed their usage and availability and nowadays they are extensively used in hobbyist cameras, electrical maintenance, and even security. 
Ultimately this means that modern monoculars can do a wide variety of things, so with that in mind, we'd like to focus on the key factors to consider when choosing a hiking monocular.
Pair of numbers meaning
The first two numbers you see listed on a monocular represents its magnification power and lens size. So the first number allows you to tell the "zooming" potential of a monocular, while the second one tells you how wide the resulting image will be.
Consider magnification power
Magnification power lets you know how much you can magnify the sight in your monoculars. There's no perfect number for magnification and your intended use will play a large role when deciding. But you should keep in mind that the further you magnify the more the field of view will be reduced. 
Objective lens of size
The size of your lens will determine how much light goes through it and how wide your field of view will be. Of course, the larger the size the bulkier and more expensive the monocular will be. So you shouldn't simply aim for the largest number without other considerations.
Prism Types
Prisms play a key role in monoculars by correcting the image and ensuring you view it in its proper orientation. Porro prisms provide brighter images, while Roof prisms allow for further magnification at the cost of a narrower image.
Exit Pupil
The exit pupil is the width of the eyebeam leaving the eyepiece in your monocular. To keep things simple you should keep in mind that you'll only see real benefits if the exit pupil is narrower than your actual pupil.
Lens and body protection
Monoculars will see use and exposure and this means that protection goes a long way to ensure they last. Anti-glare coatings, o-ring sealing, and rubberized parts are some important forms of protection that provide extra value to a purchase.
Other factors you need to consider
As we mentioned above some monoculars include laser or thermal functions that can be useful if you plan to go hiking at night or need accurate measurements. Warranty is of course something important to consider for any purchase, and don't forget to check the type of batteries your monocular uses; you'll always want to go rechargeable.
What is the best budget monocular for backpacking?
Trying to define the best budget monocular for backpacking, camping and hiking can be a challenging issue due to all the factors that come into play in defining what is best for you as an individual. For some people, night vision is a must, for others recording is essential, and even the concept of a budget pick can vary from person to person.
But in broad terms, if you are looking for a general-use monocular we heavily recommend the Mileseey NV20, as it provides both night and day functionality at a great price.
What is the best size of monoculars for hiking?
When it comes to outdoor activities like hunting or hiking the portability of your tools will play a huge role in how practical they are to use. However, size in monoculars is directly tied to the field of view and other specs, meaning that there's a need to strive for balance to make the most out of your new accessory.
For hiking a monocular in the 8x25 to 10x28 range is ideal as you'll get good magnification without sacrificing too much space. Short-range hunters should be able to make the most out of a 6x22 model, while those looking for longer ranges will likely aim for a 10x28.
Mileseey Monoculars for Hiking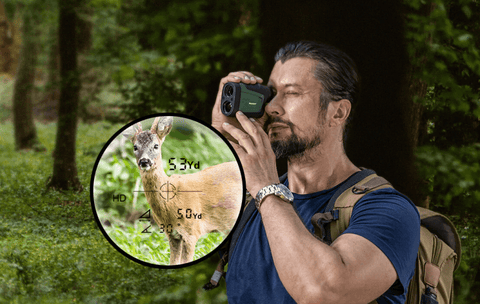 Now that you know what to look for it's time to look at some specific models from Mileseey that can complement your hiking trips. Combining great prices with advanced technology all of the following will be quality tools both for new and experienced hikers alike.
Mileseey PF1 Golf Rangefinder
The Mileseey PF1 is as compact as they get while still providing IP 65 water protection. If you are just starting and want to discover what monoculars bring to the world of hiking this is the perfect entry pick for you.
Mileseey GPF12 Golf Rangefinder
The Mileseey GPF12 can be seen as something of a direct upgrade to the PF210. Similarly to the above, it's a very compact model, but at 6x22 it already brings an improved field of view that makes it more apt for taking in the surrounding sights.
Mileseey PF2H Monocular Laser Hunting Rangefinder
Optimized for hunting the Mileseey PF2H is a no-brainer for people who need accurate measurements in their excursions. A 900m range coupled with an LCD screen that offers dedicated information in real-time makes sure that you have all the information you could need right in front of your eyes.
Mileseey NV20 Night Vision Monocular
The Mileseey NV20 is the ideal pick for those looking for a general-use monocular. A compact and sturdy design coupled with a rechargeable battery means that this monocular is ready for any adventure. And since it includes both modes for both night and day it is a monocular that will see use at any time of the day and no matter what you have in mind for your next hike.
Wrapping It Up
If you want to take in the sights around you as you go hiking you will need a rangefinder or monocular. After all, seeing the birds in the distance and truly seeing them up close with your tools is a completely different experience. And of course, if you want to get a quality rangefinder you should look into Mileseey. 
Mileseey is a brand dedicated to changing the landscape of rangefinder and night vision equipment since its conception in 2009. We saw that there was an untapped market for thermal imagers and other laser technologies, and made it our mission to overturn the industry by providing great solutions at the best prices.
Related blogs from Mileseey
Top 6 Must-Haves for Disc Equipment You Should Know
How to Choose an Infrared Night Vision Monocular for Camping?
5 Main Factors That Affect the Accuracy of Laser Rangefinder Binoculars
Be the first to know the latest updates, tips, how-tos, exclusive deals, and discounts from Mileseey. Sign up for our newsletter today!